In case you missed it LA Regional Vice Chair candidate Adam Abrahms made headlines over the weekend as he successfully led the effort to unify an 18 year Young Republican schism. Under his leadership all Young Republicans in California are now united as the California Young Republican Federation which also elected Abrahms as their first Chairman. See the full story below.
Uniting behind Abrahms doesn't stop with the Young Republicans. All over Los Angeles, from Long Beach to the Antelope Valley, Santa Monica to Pomona, Republicans are uniting in support of Adam's campaign to put LA back on offense. Abrahms is the only candidate to unite the grassroots groups, nominees, legislators, party leaders, tea party activists, old and new alike and from all segments of our Party. Every day more Los Angeles Republicans realize we need new leadership, principled activism and unity if we are to succeed and are coalescing behind Abrahms and his Plan for LA.
AFTER 18 YEARS, CALIFORNIA'S TWO STATEWIDE YOUNG REPUBLICANS MERGE INTO ONE NEW GROUP
Adam Abrahms, President, California Young Republican Federation
March 1, 2011
Saturday marked a historic day for Young Republicans as scores of YRs representing thousands more came from all over the state to attend a Unity Convention hosted by the Orange County Young Republicans. At the Convention both the Young Republican Federation of California (YRFC) and California Young Republicans, Inc. (CYR) met for the last time as separate groups as they voted to merge and become one unified activist powerhouse, the California Young Republican Federation (CYRF).
After eighteen years of division, a nasty legal fight, political threats and personal attacks, California's Young Republicans are UNITED and excited to put the disputes of years past behind them. For too long, time and resources have been wasted on this internal squabble. Those involved today don't care about ancient grudge matches; we want to focus our energy on electing Republicans and taking back our State.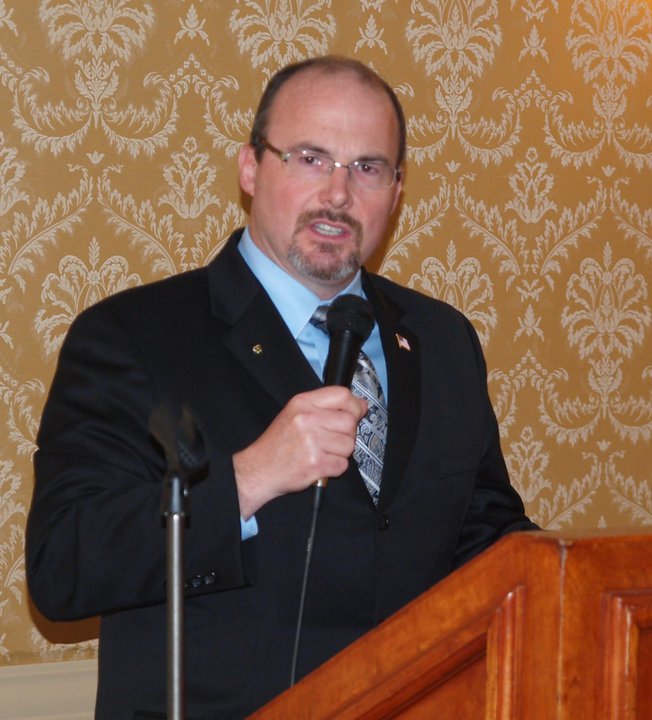 The relief and excitement at Saturday's convention was both palpable and contagious. After the two organizations met separately to adopt the new constitution and bylaws they hosted a celebration luncheon that featured John Eastman and Assemblyman Tim Donnelly (pictured left). Eastman spoke of the need for YRs to be the future of the Party and Donnelly was a fitting speaker as his election resulted from the activism YRs showed in being the first group to call for the recall of disgraced former Assemblyman Anthony Adams. The united YRs also gave special recognition to former CRP Chairman Mike Schroeder who, for all his time and effort toward helping resolve the lawsuit, was presented with the Founder's Award.
Personally, I am honored and privileged to serve as the first chairman of CYRF and to work alongside former CYR Chair Jenniffer Rodriguez who will serve as the organization's CEO. The merger provided an opportunity to elect unified leadership representing the best of the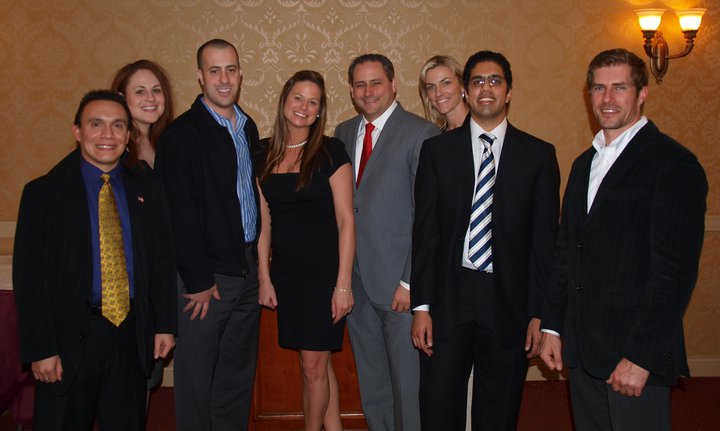 California's future including State Vice Chair Joe Sanchis (SFYR), Treasurer Michelle Cloyne (EBYR), Secretary Alex Burrola (LBYR), National Committeeman Rohit Joy (EBYR), National Committeewoman Tiffany Abrahms (WLAYR), Finance Director Nathan Miller (RCYR), Communications Director Angie Meyer (WLAYR), Northern Vice Chair Michael Major (SCYR), Central Vice Chair Matt Hewitt (VCYR), Southern Vice Chair Justin Smith (SFVYR), Executive Director Ashley Ingram (SFVYR), General Counsel Dave Bartels (OCYR), Political Director Scott Carpenter (OCYR), Membership Director Erin Seay (SDYR) and E-Media Director Adam Haverstock (VCYR).
In uniting the two former statewide YR organizations, the new alliance now has 18 growing chapters in 15 counties all through California including San Francisco, East Bay, Nevada, Placer, Sacramento, Silicon Valley, Kern, Ventura, Antelope Valley, San Fernando Valley, Tri-Cities(LA), West Los Angeles, Long Beach, Redlands, Orange County, Riverside, Temecula and San Diego.
Immediately following the luncheon the new CYRF Board met to hold its inaugural Board meeting and conduct its first business which included the launch of its website www.cyrfgop.com and preparations for the CRP Convention where the Party will be asked to formally recognize CYRF as the unified YR organization. In the spirit of unity the organization also passed it first resolution thanking and commending Senate Republican Leader Bob Dutton, Assembly Republican Leader Connie Conway and all Senate and Assembly Republicans for their leadership and unity in opposing all tax increases and tax ballot schemes (see it here). As they continue this historic budget battle, YRs stand ready to support them.
With the past behind them, the leaders and members of CYRF march ahead as the grassroots troops our state needs to restore California to the Golden State. Young Californians will suffer the most if we do not turn California around, create jobs and climb out of debt; the Young Republicans stand united and ready to fight for California's future.
Adam Abrahms is a nationally recognized management-side labor attorney and longtime Republican activist, running to be the Los Angeles Regional Vice-Chair to the California Republican Party.
Adam lives in Santa Monica with his wife Tiffany and daughter Alexis. To learn more about Adam, visit his website at: www.adamabrahms.com